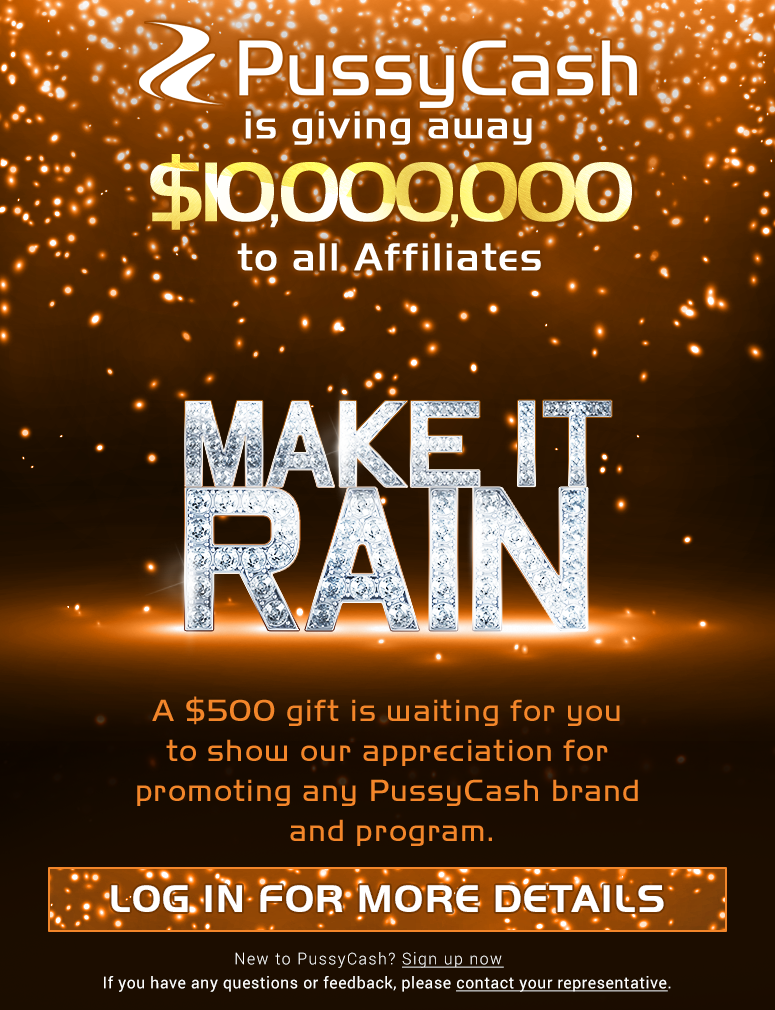 Eligibility for Payouts -
PussyCash.com Sign-ups -
A. The Campaign runs from July 1st 2018 (00:00 EST) to July 31st, 2018 (23:59 EST). ("Campaign Period ")
B. On the Pay Per Sign-Up Programs, Revenue Share Programs, Per Lead Programs and/or Post-Pay Programs of PussyCash.com, registered and verified Webmasters who bring three (3) legitimate unique paid sign-ups that each purchase/spend at least $25, during the Campaign Period, will be eligible to receive a one-time bonus of $500. Webmasters may be requested to verify their email addresses in order to participate in this Campaign.
General terms
1. Webmasters who verify their email addresses via disposable and/or temporary email addresses will not be entitled to participate in this Campaign.
2. PussyCash.com has the sole discretion to change and/or amend the definitions of this Campaign at any time, including but not limited to disqualify Webmasters from this campaign due to fraudulent activity, or any violation of the PussyCash.com acceptable usage policy and/or ImLive.com Terms of Use, and you agree that you shall not be entitled to any compensation in such cases.
3. PussyCash.com reserves the right to revoke any bonuses in the event of a system error and/or illegitimate activities.
4. Chat traffic and/or any traffic brought via direct contact with end users is not eligible to the Campaign bonus payouts.
5. Traffic generated by promoting PussyCash.com brand names (such as ImLive, Im Live, iamlive, I am live, Sexier, Shemale, Shemail, Supermen, SuperMan, Super Men, FetishGalaxy, Fetish Galaxy, CamsCreative, Cam Creative, etc.) and misspellings thereof, through Pay Per Click search campaigns, for instance in Google, Bing and Yahoo - is not eligible for the Campaign bonus payouts. This includes keywords appearing in ad text, and keywords used as a 'trigger' to display the affiliate ads.
6. Multiple Accounts. In the case that a webmaster has multiple accounts, PussyCash.com reserves the right to compare the accumulated number of paying sign-ups that the webmaster sent through all of his accounts in recent past pay periods to determine the webmaster's sign-up target and eligibility to earn the special payments offered during the campaign period.
7. In cases where the same Webmaster has more than one account across various PussyCash.com Programs, only one account will be considered for the bonus calculation.